Oxfam novib
HYPER ISLAND | BUSINESS STRATEGY | 2 DAY PROJECT | GROUP WORK
THE CHALLENGE
We were briefed by Oxfam International with the following challenge:
What are some overarching tactics we can use in our campaigns to mobilize audiences in the global North and South, other than online petitions?
The focus was on their GROW campaign, their fight to solve the global food crisis.
With such a broad challenge, my team and I found lack of focus. We redefined the challenge into our own words:
THE PROCESS
By Industry Expert Carola Verschoor, the crew got a 1-day crash course on Strategy, the direction of an organization bringing about interaction within its environment. By understanding the steps, my team and I spent two days researching and using tools to come up with our strategy.
Before using tools, we did some research: worldwide trend of focus- the Millennials.
During our desk research we found out the following:
1. Millennials travel 4.2x a year for leisure, compared to 4.7x for business
2. Millennials are 22% of all travelers and spend roughly 200 billion Euros a year on travel
3. Millennials are influenced the most by peer/user-generated conten
4. Adventure travel is the most popular form of travel, while educational travel is the least
And in general, traveling is becoming more affordable and accessible worldwide and it is getting more popular to start traveling from a younger age. (Source)
TOOLS TO PLAN
In order to understand the interactions in the system, we used Osterwalder's Business Canvas Model for non-profits, therefore two: one for donors and one for beneficiaries. This provided structure and context of how Oxfam creates, delivers, and captures value for both parties.
In order to understand all the different stakeholders involved and to which extent they are, we used Stickdorn's Stakeholder Map to understand the indirect, direct and key stakeholders.
TOOLS TO MATCH
We created four different kinds of personas to understand how and why people are and could be affected by Oxfam's value.
With our four personas, we used Empathy Maps in order to understand the persona's empathy around Oxfam's work and the environment.
In order to register all our data to navigate and redefine how Oxfam can create value, we used Osterwalder's Value Proposition Canvas to match the world of the users with what Oxfam could offer. By identifying tasks to be done, we identified possible products/services for Oxfam to offer and matched by validating whether the user would use the product/services.
TOOLS FOR SCENARIOS
By User Journey Mapping, we explored different possibilities and planned scenarios to identify potential areas when to address people.
From using these tools, we concluded these insights:
1. People are aware of global issues but do not feel personally connected to them
2. The word "donate" has a negative connotation, there's no transparency and therefore no trust
3. The donation experience is short and not impactful
4. People don't think their little contributions will make impact and therefore see no point
5. There are so many NGO's worldwide people cannot differentiate them or understand where their money goes if they donate
THE OUTCOME
A strategy focused on the traveling millennials, concentrated on creating transparency and interaction with Oxfam.
Oxfam International is a big organization working on many global issues. Instead of focusing on one issue, why not focus on all the issues and target the information and approach to a specific market? The most influential global market right now- millennial travelers!
An example of a campaign using the proposed strategy: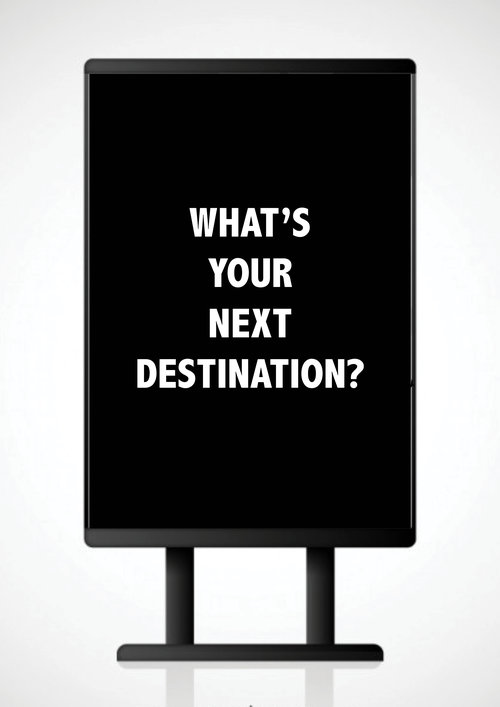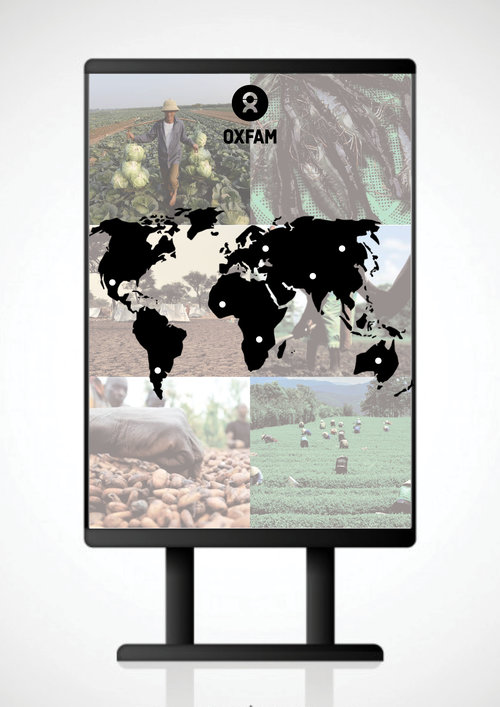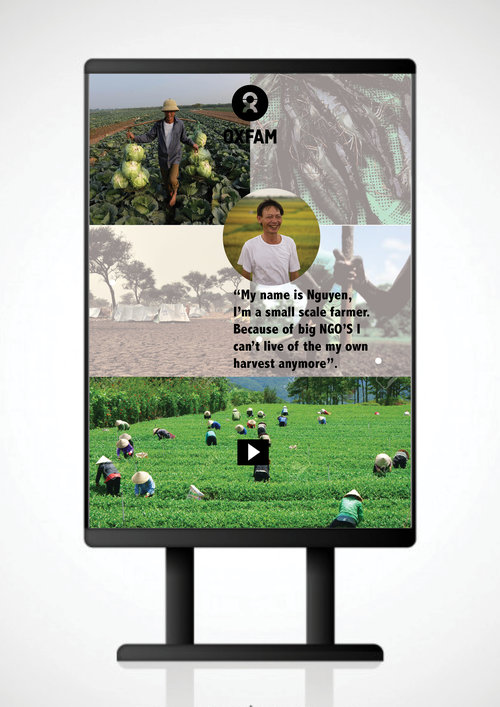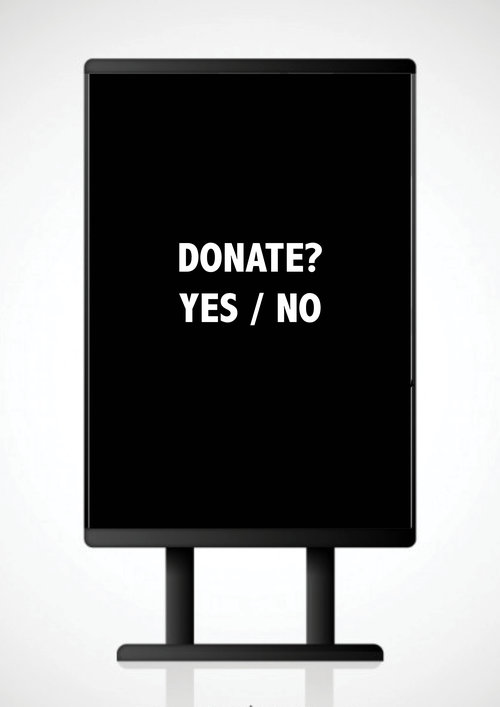 STEP 1- Out in public, we get attention by triggering a question of interest. User clicks the board.
STEP 3- User is led to understanding and empathizing with the reality of life in their next destination. Use of interactive media by Oxfam.
STEP 2- User is led to a world map and can click on their next destination.
STEP 4- Not the ultimate purpose but an option, user is asked if they wish to donate. Purpose is for people to rethink about why and how they're traveling and how they use their influence to create awareness of the actual global world.
STEP 5- After a donation, user receives a personal postcard from the people in need at their next destination of choice. They have the option to send this postcard to their friends and family, as well as find the website to link them to Oxfam.
STEP 6: Win a trip and meet the farmers themselves! Experience what they go through and raise real awareness by sharing your real life experiences on social media.
MY TEAM T.A.F (THINKING ABOUT FOOD) IN ACTION